Historic information on Whitehaven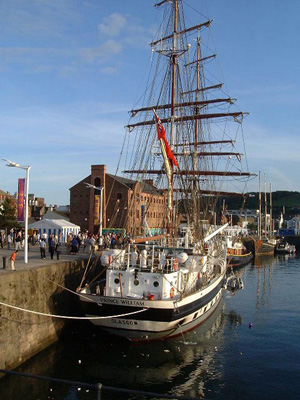 Whitehaven and one of Britain's first banks

See Also: Bounty "mutineer'', one Peter Heywood, from Whitehaven.

Whitehaven in the 1960's on canvas

Whitehaven Grandfather Clock in 10 Downing Street

The Poor Law Workhouse in Whitehaven

Listing of Shipping circa 1810

Horse racing in Whitehaven

Bulkwark Quay and other Whitehaven quays

England's first Undersea mine

Matthew Piper Soup Kitchens

Shooting down Zeppelin earned ex St Bees pupil a VC

Mount Pleasant

William Pit Disaster

Site listing those who perished in Wellington Pit disaster

The Royal Deeds granted for Whitehaven

The Winter White out of 1996

Map of the Whitehaven collieries (Northern)

Clogmaker Lance Brew

Notes on Whitehaven Harbour and its History
Whitehaven described in the 1847 Gazeteer

Looking back on old Roper Street
Whitehaven's first Green Businessman?
Read about one of the town's longest serving and undervalued trades.
Whitehaven Historic Archives Office
William D. Coon may be a familiar name to many in Whitehaven particularly those who remember his 'Mark Taylor' shops in King Street, Whitehaven and Murray Road, Workington. The shops selling cycles, toys, sports equipment, and car accessories over three floors closed only ten years ago after his sons took over the business. He died in 1979.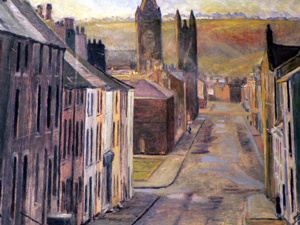 Coon was born in London but settled in Whitehaven after marrying a local girl. He came to art later in life and began painting as a hobby in 1960 when his wife gave him a box of oil paints and brushes as a present. He enrolled in Art College at Carlisle and attended local art classes and revealed himself to be a talented painter in oils. Coon exhibited widely in the local area in the 1970s and his works capture the beauty of Whitehaven's architecture and the landscape and coastline of Copeland and Allerdale. Many of his paintings form a record of times past. Boats and wagons on the old harbour and old Bransty Station are all featured and all painted in a magical and appealing light. His works also form a tremendous record of the buildings of Whitehaven from detailed doorways to entire streets.
It may surprise readers to know that Whitehaven had one of the first banks in the country.
An article in the Cumberland Pacquet of May 17, 1786 announces that the partners would
be John and Thomas Hartley, Henry Littledale and Samuel Potter along with a Mr Harrison, of
London, and that the bank would open in Coates Lane. The Hartleys were a well known local family who had had a rope and twine manufactory in the town since the 17th century. They were also shipowners. Thomas, one of the founders, lived for a time in Howgill Street, then moved to Gillfoot, Egremont, where he became an ironmaster. John's son Milham lived at Rosehill, Moresby. Henry Littledale was a merchant who lived at 14 Scotch Street, now a solicitors office, opposite the Record Office. A relation, Isaac, was a candidate at the first contest for the Whitehaven parliamentary seat in 1832 ,when he was defeated by the Lowther nominee Mathias Attwood from Birmingham.
Dame Edith Brown, pioneer of medical education for women in Ludhiana, north India, was born in the Bank buildings, Coates Lane, when her father was the manager.
A second bank which opened in the Old Brewery in Irish Street was the victim of a daring robbery in January 1809. #500 reward was advertised for the capture of the four culprits. Two were soon apprehended and convicted at the Assizes, but the other two were still at large in November of that year when a further #500 reward was on offer, namely Thomas Spooner alias Willis and Richard Wright alias Black Dick, who had absconded from Birmingham jail in the February.
Our third bank to open was the Savings bank which was founded as the result of a meeting at which the inhabitants of Whitehaven and District met on Monday April 6, 1818 when it was resolved that a bank for savings be established to encourage the labouring classes and others to deposit a portion of their earnings, however small ( in sums of not less than one shilling at a time) as suits their convenience. Originally, rather like the modern Credit Union, deposits could be made at the Public Office, situated where the Post Office is now, one evening a week between 6 and 8 pm. 507 people joined in the first two years.
In 1833 the present premises were erected. As these are on the site of the original Whitehaven church - before the St Nicholas site was selected - we should not be surprised to read that two skeletons were discovered during the excavation of the vaults. The wrought iron balconies rank with those at Floraville on Front Corckicle among the best examples of ironwork in Whitehaven - another of our forgotten trades.
A grandfather clock by Whitehaven maker, Benson has pride of place in the entrance hall of 10 Downing Street.
This is the Whitehaven Intellengcer advert for that clockmaker! Vol 1 No 1, Tuesday 5 Nov 1776 [free]
Nov 1776- ADVERTISEMENTS:
"JOHN BENSON, CLOCK-MAKER on the West Side of the Fish-market in Whitehaven, who makes all sorts of Plain, Repeating, Musical, and Astronomical Clocks; as also Scales of different Kinds, for weighing Gold, in the exactest Manner, at reasonable Prices. Begs Leave to return his most sincere Thanks to his Friends, for the many Favours they have conferred on him, humbly hoping for their further Patronage and Custom; and takes this Opportunity to inform the Public in general, that he will go into the Country, in the environs of Whitehaven, to clean and repair Clocks, upon a short Notice.
Those who please to favour him with their Commands, may be assured of his utmost Care, to do Justice to the Work, as his Abilities are unquestionable; having carried on the Clock-making Business, in all its different Branches, with Credit, during a continuance of thirty Years in Whitehaven. Hadley's Quadrants repaired and Cleaned."
Former Museum curator Harry Fancy adds: "I recall a newspaper article (one of the 'Nationals', not the local press) replying to a reader's enquiry. This asked why in the Navy, anyone called Benson was invariably nicknamed 'Ticker'. The answer given was that Benson of Whitehaven had a contract to supply timepieces to the Admiralty. Now - I can't vouch for that story, but if true, it may well explain why there is a Benson long case clock in the entrance hall of 10, Downing Street, the residence of the Prime Minister. It belongs to the house - not to the incumbent - and could well be a reminder of this former Government contract.

Beson was a pioneer of the white dial - i.e. a white enamelled dial which was cheaper as well as being easier to read than the earlier brass dials. This could have been a factor in his allegedly securing a Royal Navy contract...) By far the best book on the topic is John B. Penfold's 'Clockmakers of Cumberland', published in 1977. This is now a very expensive collector's volume. I know there is a copy in the Branch County Record Office, Scotch Street, Whitehaven Cumbria "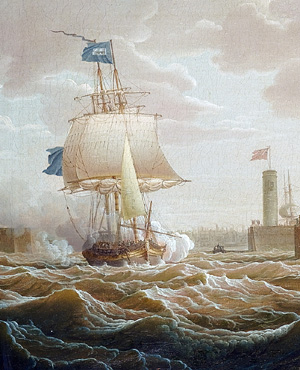 Bulwark Quay The Bulwark Quay and Queens Dock (named after Queen Victoria) as we know it today were completed in 1876.

Towards the root of the Bulwark Quay, close to where the new marina services building stands today, was built a single storey Harbour Office - also completed in 1876.

Central to this aesthetically pleasant designed building was a tower, extended in 1895 to include a clock and topped with a bell tower.

The bell was not connected to the clock, certainly not at the design stage so is unlikely to have struck the hour. One can only surmise at its purpose; whether it to be for advising of dock gate opening times, warning of severe weather, permission to enter harbour or even advising of tide state (high water, low water).

The bell was of quite modest proportions - 3ft 8ins high with a bell-mouth of 5ft 2ins.

Sadly, because of foundation settlement (the piers and quays of Whitehaven harbour are rubble infill) the Harbour Office complete with Bell/Clock Tower was demolished in 1956. What became of the bell is open to speculation.
The other quays:The Lime Tongue and the Sugar Tongue remind us of the days when
shipping was plentiful. At the Sugar Tongue the West Indian trade was
handled. The Jefferson family had their own ships fetching rum and sugar
from their own plantations in Antigua. The most surprising entrepot
trade of all was the import of tobacco from Virginia and Maryland; for a
generation or more Whitehaven merchants controlled much of Europe's
trade in this commodity, and there were even two huge chimneys on
Bransty simply for burning damaged or contraband cargo. Today the Sugar
Tongue houses the Donnan fishing interest, and their colourful plastic
fish boxes are a feature of the dockside scene. They have an ice-making
plant at the end of the jetty. Only four trawlers are moored in the dock
today, but there are times when the Kilkeel boats lie two abreast at the
quay. Some reconstruction work is going on at the Slipway. Traces remain
of the Patent Slip which used to lower boats into the tide. An ancient
wooden winch has been retained as a feature of a housing renovation near
Marlborough Street.

Liverpool takes over from Whitehaven
The port of Liverpool was transformed from a small fishing village in
1660 to a flourishing port by 1720 when the wet dock was built. Cheese
and salt were the lucrative trades. And exporting cheese & salt resulted
in a flood of imports. Grain came in to feed the locals where the fields
were for cows not grain. Cotton, sugar, tobacco ... and then ...William WilberforceThe 'Liverpool Merchant' was the first recorded slave
ship to sail from Liverpool. She set sail on the 3rd of October 1699 and
arrived in Barbados on the 18th of September 1700 with a cargo of 220
enslaved Africans.As 18th century Liverpool, a free port, expanded rapidly, The Port of
London shot itself in the foot. Parliament established London as a head
port not because of any advantage for loading & unloading ships but simply
because such activities were only permitted in the presence of the
Collector of Royal Customs!

The West Strand is an area which has been re-modelled recently,
retaining the authentic 18th century style. Along here locomotives used
to haul coal from the pits at Kells, past the fronts of the
ship-chandler shops and taverns with names like Manx Smack and Blue
Anchor. The Royal Standard (once a music hall) is still in business, but
the back end of Safeway's car park is a less than interesting feature in
this potential tourist venue.


Whitehaven Ship owner Thomas Henry Lutwidge joined the Navy in June 1794 as a captain's servant, on board the Terrible. This ship was at the siege of Toulon with Nelson in 1793 and the reduction of Corsica 1794.
He became a midshipman in 1795 on board the Bar Fleur under Captain James Dacres. He fought in Nelson's campaigns in June 1795 and February 1797 off the Ile de Groix and Cape St Vincent.
In June 1798 Thomas Henry Lutwidge joined the King's troops while on board the Endymion and took part in a battle in Ireland! This was in Wexford and around 100 vessels were destroyed!
He then joined the Prevoyant and was made a lieutenant (1800). He then served on three smaller ships which were frigates or small warships - the Lapwing, the Resistance, and the Hussar.
In 1804 he was shipwrecked off the coast of France, and managing to swim ashore was captured and spent 10 years in a French prison!
A few weeks after his release in 1814 he joined the Tiber under Captain James Dacres whom he had sailed with years before. This ship was another small warship and he saw action again protecting trade ships around Spain and Portugal. He finally made commander.
How he found the time to get married I don't know - but he married Mary Taylor of Osbaston Hall near Leicester!
The family burial plot is in St Nicholas's Churchyard.
It is 200 years on October 21 this year, 2005, since Nelson's Battle of Trafalgar, and strangely enough 800 years since 1205 and the Battle of Inverbervie when the great Cumbrian warrior John de Courcy put together a fleet of around 100 ships manned by mercenaries from Cumbria and the Western Isles to fight the unpopular King John of England! Find out more about the Lutwidge home at Holmrook Hall.



17th Century Loving Cup Saved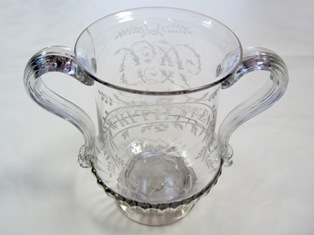 The Friends of Whitehaven Museum invited The Beacon curator to nominate one item per year from The Beacon's museum collection that is in need of conservation. One item selected was an 18th century glass loving cup. With the generous support of the Friends, the cup was conserved by Jenny Truran at the Lancashire Conservation Studios in Preston. The cup is now able to be on show in the museum for everyone to enjoy". This cup is an important piece of Whitehaven's history. www.thebeacon-whitehaven.co.uk


New Publication (2007) on the William Pit Disaster.
Written by Amanda Garraway, this stunning book documents the disastrous explosion at the William Pit, Whitehaven, in August 1947, in which 104 Men lost their lives. Each man is remembered, many with photographs and personal memoirs of family members and friends. The exact circumstances of the disaster for each man are also included, as are some general letters from people who witnessed the events of 60 years ago. This book is a must for anyone interested in mining and Cumbrian history.

The book can be pre-ordered via Amazon.co.uk, so if you are interested in grabbing a piece of history before it's sold out, grab yours today. If you don't wish to buy online, 104 Men will be available from most good bookstores. ISBN-13: 978-190-452452-6
A PLAQUE to commemorate meteorologist John Fletcher Miller is afixed to the house where he was born, 7 High Street, Whitehaven.
Whitehaven: Its Streets, Its Principal Houses and Their Inhabitants the booklet was written by William Jackson of Fleetham House, St Bees and was originally published in 1878.

It tells how Mount Pleasant formerly so remarkable for its beauty and so charming to every sense as to deserve its name is now become repulsive instead of attractive and a place to be avoided rather than visited.

And how Bardys Well was a most valuable asset in a time of poor plumbing and disease. Threats were made to inflict pains and penalties on those who befouled this fountain.

The well was later built over by Peggy Scott of the Manx Boat public house who called the group of houses James Place after her second husband.

These and numerous other little snippets provide a fascinating glimpse into bygone times.

For instance the name College Street preserves a record of an establishment founded by first Viscount Lonsdale of Lowther and of which his relative Sir John Lowther of Whitehaven was a trustee. It was intended for the education of the higher classes in the northern counties but within 40 years it was closed and the buildings became a carpet manufacturers.

As Mr Moon says: The language is a bit flowery but it is Victorian and the factual content is hard to find elsewhere and to assist the researcher Mr Moon has prepared a new indices of the people and streets mentioned in the booklet, making it easier to use as a reference tool.

It appears the author, Mr Jackson, discussed his findings and views on the subject at a meeting, hosted by the Whitehaven Scientific Society held at Mr Haytons Assembly Rooms (Howgill Street) with members of the Archaeological Society of Cumberland and Westmorland as guests. The rooms had been at the centre of festive and fashionable gatherings during the 18th century. Sadly, place names which link one of the towns most important families, the Gales, to Whitehaven have long since disappeared. There was once a Gale Lane, a Gale Backlane and a Gale Court (now beneath the multi-storey car park).

The book includes interesting histories of the occupants of Tangier House (now The Waverley Hotel, Tangier Street) who presumably gave their names to the nearby Senhouse Street (Captain Richard Senhouse who build it in 1685) and Hicks Lane (William Hicks, sheriff of Cumberland, purchaser in 1745). Theres also Greggs Lane (Mary Greggs married a Richard Senhouse in 1708). Capt Senhouse, grandson of Peter Senhouse of Netherhall, was, it seems, one of the few Englishmen to make money from the African settlement which was the white elephant in the dowry of Catherine of Braganza and thus gave the name of Tangiers to his abode.

Other citizens whose names live on are Addison, Coats, Ellison, Williamson, Read and of course the Lowthers.

Only 100 copies of this little book have been printed (by Mark Wonnacott at Printpoint) and they retail at £5 from Michael Moons bookshop, Lowther Street - a great buy.

Google books has been searched by Mr sean.f.duffy@gmail.com. and so far he has uncovered the following suggestions:
1 Culture, conflict and migration, 1998,
2 Annual Register, 1799
3 Gentlemans Magazine, 1825
4 European Magazine, 1805
5 American Quarterly review, 1830
6 The Beauties of England, 1802
7 Statutes at large, 1765
8 Works of Jonathon Swift, 1814
9 Analectic Magazine, 1820
10 Annual Register, 1806
11 Encyclopedia Britannica, 1824
12 Penny Cyclopedia, 1837
13 Whitehaven railway handbook, 1852
14 Jollies Guide, 1811
---