Long before going green was trendy, Bernard Hanratty's family has been salvaging and reclaiming metals and scrap in Whitehaven.
I hope Bernard will forgive the comparison with the famous TV stars of the 1960s, Steptoe and Son, but the time worn, but busy office and yard of Hanratty's scrap business in Whitehaven's Albion Street could easily pass as the setting for those lovable characters.
The Hanratty family originally hailed from the farming lands around Newry, Northern Ireland. Bernard looks back down the family history to his grandmother Mary who had a large family that prospered across the North of England at the turn of the last century.
His father Peter Hanratty set up in Egremont in South Street around 1900, while brothers also ran businesses in Workington and in the North East. Bernard recalls that the family had a fleet of horse and carts and on summer days used to ferry throngs of day trippers to Ennerdale on horse drawn excursions.
One brother even crossed the Atlantic to run a bar in hectic New York. But as Bernard put it: "Each and every one was a dab hand at dealing."
It was in 1915 that the Hanratty's first came to a busy Albion Street just up from Whitehaven harbour and market. Peter Hanratty (Bernard's father) and brother Jimmy bought No 5 and started trading as a Marine Store.
Bernard explains: "They were not rag shops but were known as marine stores. Every port had one. Among the things they handled were ropes. A busy port, as Whitehaven was then, meant they could be salvaging four tonnes of rope a week."
In 1930 the adjoining building, Ramsey Brother's Phoenix Foundry (pictured) got into financial difficulties, no doubt as trade plunged in that recession. The Hanratty's managed to scrape together the resources to buy number 12-14 and in 1940 they went on to buy up the Vulcan Foundry that had been run by the Dixon family.
It was around this time that the then 19 year old Bernard set aside a start on being a medical student to work in the family business. Now aged a sprightly 82 years Bernard is still the canny boss directing this most useful, if unglamourous trade. Nowadays the firm also caters for the demand from the public by providing skip hire for work across the area, thus earning itself a double reward for taking away what people no longer want and often reclaiming what would otherwise go to waste.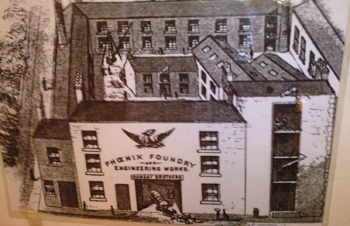 More on Whitehaven's history...