One of the well loved characters from Whitehaven's Roper Street's former 'stars' was wooden clog maker Lancelot Brew, who even got a 'name check' in the one hit wonder, Clogdance by local rockers, Violinski.(in 1979)
The late Mr Brew could be seen in his front window hammering away at the skilled craft of clog making.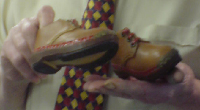 John Mason, who's electrical store has been repairing and upgrading appliances in the street since 1963 says he is the proud owner of a miniature pair of wooden clogs, beautifully hand-made by the late clogger.(pictured above and right)

Local rock musician John Marcangelo was born and bred in the town of Whitehaven, For hundreds of years, workers in the North had walked to their demanding and at times dangerous jobs in wooden soled shoes with leather uppers called clogs. It was no different in Whitehaven and everyday, the clatter of clogs could be heard as coal miners made their way to the pits. The rich gentry of one part of town, Corckickle, even had wooden pavements laid to reduce the noise from the miners' clogs as they trapped past to work.
A different but no less percussive sound could be heard coming from a small shop in Roper Street, intriguing a young musician.
JOHN MARCANGELO: "As a kid I used to pass by Brew's clogger's shop, watching Mr Brew hammering away at his last, making and repairing clogs, and after a while it just gave me the idea for the 'Clog Dance' piece."
More on Whitehaven's history...