Renaissance of Whitehaven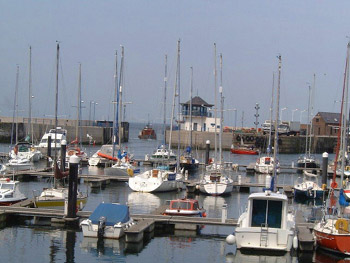 In the 1950's the steady decline of the coal and iron industries saw many cramped and unfit houses in Whitehaven boarded up and derelict. Government funded investment has helped restore much of the character and hopes of the Georgian town centre. Below we outline this government investment.
The Whitehaven Town Centre and Harbour Strategy was published by a working party formed by Copeland and Cumbria councils, the West Cumbria Development Agency and English Heritage in 1990 to look at ways of breathing new life into the town.
Whitehaven Development Company was formed in 1992 with partners BNFL, English Partnerships, Copeland Borough Council, Cumbria County Council, and Whitehaven Harbour Commissioners.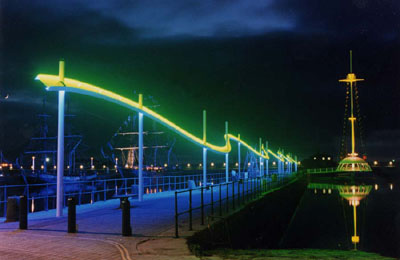 Heading the projects and a pivotal figure in the rebirth of parts of the town has been Terry Ponting, chief executive of the WDC. He has also been a keen supporters of the Whitehaven Maritime Festivals that have shown the value of Whitehaven as a tourism destination.
Chartered surveyors Drivers Jonas prepared the Vision for Whitehaven strategy in 1993 and a year later WDC secured a three-year grant of £4m from the Government's Single Regeneration Budget Challenge Fund.
Phase one of what became known as The Renaissance of Whitehaven saw £47m invested in the town. Successful schemes included the Beacon Visitor Centre (£4m); the £2.5m regional Inland Revenue offices on the quayside, one of the first Private Finance Initiatives in the country; and the £8.3m lock gate and marina scheme.
The second phase was The Millennium Project which followed a £6.9m award from the Millennium Commission. It was the seventh highest award in the country and the total investment in the project was £13.5m.
It's themes are the celebration of Whitehaven's historic role as the major maritime gateway to the UK on the west coast and its trading links with other nations, and the establishment of the harbour as a major community, cultural and sporting venue.
Phase two projects include the £3m Rum Story museum; the Hub, which forms part of Whitehaven's main public open space, linking the renovated quays and promenades to the town centre; the Promenades, offering a full loop of the inner harbour; Lime Tongue Quay, which provides the setting for the 40m high Crow's Nest and the dramatic Wave light feature; and £2.5m Whitehaven Castle development.