| | |
| --- | --- |
| | |
A Pub on Every Corner!

In the so called Good Old Days before the days of cheaper transport every town had its own brewery and almost every street a public house...and Whitehaven was no exception.
ANY man setting out on a pub crawl in Whitehaven in the late 1800s would have needed immense stamina if he was to sup at each bar. For in those years the town had 134 public houses.Today we are now down to a more sober 25 public houses and pub names such as The Jolly Sailor, The Swan with Two Necks and the Ducal Crown are but historic
memories.
And fascinating memories they are too, so much so that the late Mr Alan Routledge took up a study of the old pubs of Whitehaven as his hobby. His research has discovered a wealth of tales and facts.Take for instance the arrival of the first ever pub to have flush toilets.This was at the Indian King, a public house now occupied by Mason's electrical emporium in Roper Street. Said Alan: "But the only problem with this wonder of technology was that the toilets flushed out into Coates Lane...not into a sewer, because they hadn't arrived by 1850..the stench must have been colourful to say the least.''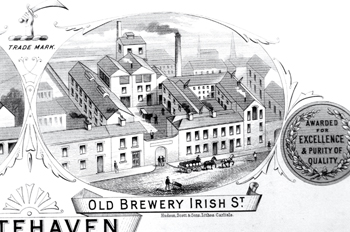 Alan's research has uncovered no less than 363 pub names down through the ages. And he estimates that about three quarters had a maritime or nautical name marking the town's strong links with the sea trade.Names that show this link include the Hope and Anchor, Lighthouse, Patent Slip and the Square and Compass.Asked which takes the biscuit as the oldest pub in town Alan said the early map in the 1700s lists the Anchor Vaults, Queens Arms, Royal Oak and Golden Fleece. All are still serving ale today.Many may think the headquarters of Age Concern on the harbourside was the Old Customs House. But in reality it started life as a purpose built up-market hotel for the likes of visiting sea captains."It was called the George Inn and was built around 1695 as the oldest purpose built hotel.''
As well as four commercial breweries, dozens of households brewed their own beer, "one lady Sarah Burns boasting of a superior brew she was producing in 1783 for four old pennies for two pints.''And drunken yobbish behaviour is not something invented by the youth of today. Witness one rowdy Bonfire Night in 1780 when drunken youths carrying blazing tar barrels walked into the Packhorse Inn demanding money or liquor. "When refused they promptly set alight to the premises'' recalled Alan. Sadly Alan passed away in 2019.
The popularity of beer in those past times was perhaps understandable, especially before the arrival of safe piped water. "In the 1600s there were just three standpipes to serve 9,000 people, and no sewers, so it takes little imagination to see that boiling water for a brew of beer was the best way to ensure a safe drink.'' If all goes well Alan who lives at Prospect, Kells hopes to have completed enough of his researches to be producing a new book on the world of Whitehaven's old public houses. (He has recently produced the book "Then and Now-Whitehaven")
*Ian Ligthtfoot from the Packhorse informs us that: "The Packhorse. 28 Lowther St, Whitehaven is the oldest public house in town still in existence... a plaque on the wall outside denoted the history. built in 1692 a plaque outside the premises gives all info..
Our map shows the old central part of town and each number was a public house- Below we list the entire collection, many now demolished or back as private homes.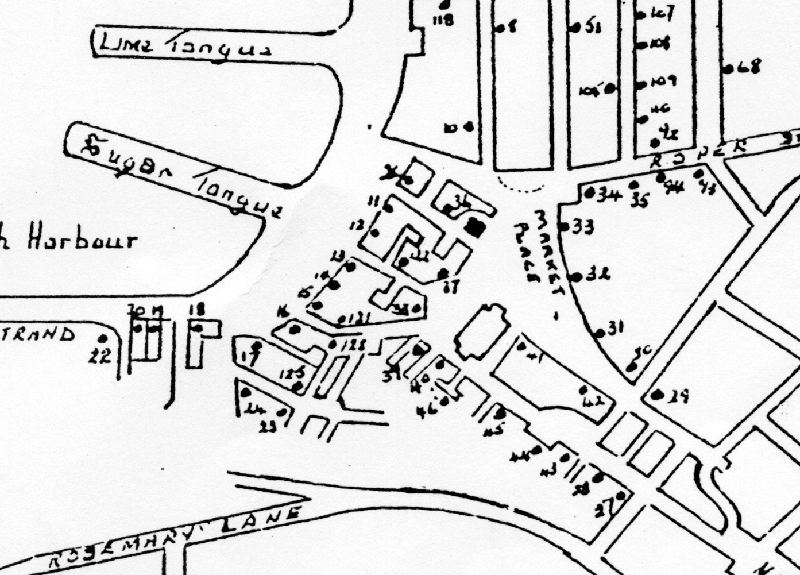 Ye Olde Inns of Whitehaven from 1846-1958
1. Grand Hotel; 2,Shipwrights Arms; 3, Queens Arms; 4, Crown and Anchor; 5, Blue Bell; 6, Turks Head; 7, Welsh Arms; 8, Brittania Vaults; 9, Old Crown Inn; 10, Coach and Horses; 11, Forresters Arms; 12, Hope and Anchor; 13, Royal Standard; 14, Ship Inn; 15, Steam Packet Inn; 16, Manx Smack; 17, Rose and Thistle; 18, Blacksmiths Arms; 19, Blue Anchor; 20, Lighthouse Inn; 21, Wellington Inn; 22, Whitehaven Pilot; 23, Man and Boat; 24, Manx Arms; 25, Braddylls Arms; 26, Nags Head; 27, Dusty Miller; 28, Fish Inn; 29, Lowther Arms; 30, Anchor Vaults; 31, Bird in Hand; 32, Queens Arms; 33, Sun; 34, Golden Lion; 35, Volunteer Arms; 36, Vine Inn; 37, Wheatsheaf; 38, Freemasons Arms; 39, Lion and Lamb; 40, Bucks Head; 41, Pineapple; 42, Queens Head; 43, Ship Inn; 44, Kings Arms; 45, Union Inn; 46, Brown Cow; 47, The Exchange; 48, Prince Albert; 49, Black Lion; 50, Canterbury Inn; 51, Albion Hotel; 52, Criterion; 53, Royal Mail; 54, Ship Inn; 55, Globe Hotel; 56, Ship Inn; 57, Wheatsheaf; 58, Central; 59, Crown and Anchor; 60, Ship Inn; 61, Sun Inn; 62, Robin Hood; 63, Cross Keys; 64, Grapes Inn; 65, Sailors Return; 66, Masonic Arms; 67, White Lion; 68, Waterloo; 69,70, Robin Hood; 71, Anchor; 72, Dog and Duck; 73, Miners Arms; 74, Beehive; 75, Royal Oak; 76, Grapes Hotel; 77, Commercial; 78, Jolly Sailor; 79, Fox and Grapes; 80, New Star Inn; 81, Royal Albert; 82, The Albert; 83, Three Tuns; 84, Lowther Castle; 85, Vine Inn; 86, Golden Ball; 87, Black Horse; 88, White Bull; 89, Whittington Cat; 90, Packhorse Inn; 91, New Crown; 92, Royal Hotel; 93, Indian King; 94, Shakespeare Hotel; 95, Victoria Vaults; 96, Hope and Anchor; 97, Bowling Green; 98, Royal Oak; 99, The Dog; 100, Foxhound; 101, Anchor Vaults; 102, Lowther Arms; 103, Punch Bowl; 104, The Canteen; 105 Punchbowl; 106, The Puncheon; 107, Rams Head; 108, Golden Fleece; 109 Rising Sun; 110, Riflemans Arms; 111, Castle View; 112, Ducal Crown; 113, Red Lion; 114, Lifeboat; 115, Steampacket; 116, Solway Vaults; 117, Red Flag; 118, Coopers Arms; 119, Brewers Arms; 120, Sunny Hill Hotel; 121, Ship; 122, Red Lion; 123, Waverly; 124, John Bull; 125, Sailors Tavern; 126, Hope Inn; 127, Scotch Arms; 128, Union Jack; 129, Ye Old CASTLE; 130 Artillerymens Arms; 131, Brow Top.