Egremont Medieval Festival

EMC2 was formed in June 2000 after a glorious event in the town of Egremont.
As part of the new millennium and new beginnings for Egremont, a group of
people banded together to put on a weekend of family fun to celebrate
Egremont's colourful history.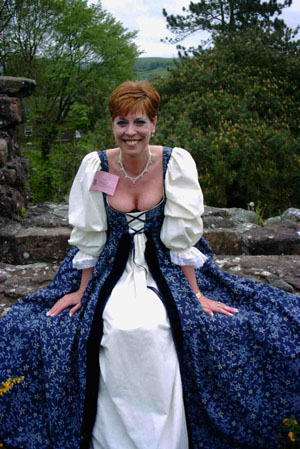 The Festivals grew out of an intial street pageant with children and adults dressed in costumes covering the ages of Egremont. Medieval knights held battles in the castle and educated the public with talks on weapons, armour and the medieval way of life. Street entertainers, markets and a radio roadshow provided further entertainment over the weekend. As a result of the interest shown by the townspeople and visitors, another group of like minded people set up a meeting to try and investigate the possibilities of holding an annual event along the same lines but concentrating on the medieval theme. After the initial meeting, a public meeting was held to set up a working committee with members of the town. What was created was a very broad spectrum of the town becoming involved in the "Egremont Medieval Committee".Local traders, clergy, councillors, married couples, single mums and teenagers all volunteered their services and became 'officers' of the committee. The name itself developed very quickly, "Egremont Medieval Committee" became "Egremont Medieval Committee Two" to honour the work carried out by the previous (by then disbanded) group.
In 2001 and 2002 large crowds enjoyed successful Festivals. Sadly after the 2002 event debts overwhelmed the Festival and Egremont's vicar, the Rev John Woolcock arranged a loan to enable creditors to be given some redress. Against this background there was no Festival in the year 2003.
---
Back to Festival home page