The Clearway
The steam dredger Clearway was a well known 'character' in Whitehaven harbour for some 70 years. She dredged up the silt that tides kept washing into the harbour mouth. Built in Aberdeen in 1926 she came to Haven a year later.She was one of the last coal fired steam dredgers in Europe. In 1992 her triple expansion reciprocating steam engine was mothballed as the days of phosphate rock cargoes into the port had stopped.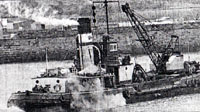 Regrettably despite strenous efforts by the Harbour Master Dave Allan no preservation society could be found or formed to take on the Clearway. In 1998 a crowd of wellwishers saw the boat off as she was towed to Millom for scrap. A Norwegian society renovating a 1908 fjord steamer the Oster have bought the engines and in 2000 summer started sea trials at Bergen. Fund raising is now (October 2000) active for a £4,500 scale model of Clearway. Already £1,800 has been pledged.

Any donations should be made to the Secretary of the Whitehaven Heritage Action Group, David Allan, Pears House, Duke Street, Whitehaven. Any cheques should be made payable to the Whitehaven Heritage Action Group.
To find out more look to the Harbour Commission web site www.whitehaven-harbour.co.uk