Alasdair MacDonald
Scottish Piper
Pipers have historically been called upon to play at weddings, ceilidhs, funerals and of course Burns suppers, and I will be pleased to discuss any event you feel would be enhanced by the inclusion of some traditional pipe music.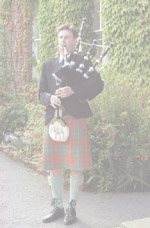 Weddings are certainly the most popular reason to hire a piper, and if you have a wedding coming up you may like to consider some of the following ideas.
I can play for the guests as they arrive at the church (or chosen venue).
Play the Bride, Groom and Guests out the church after the ceremony.
Pipe the Bride and Groom up to the top table at the reception to start the wedding breakfast.
"Every wedding is different and I will be happy to incorporate your ideas into the day. They could include: Play the bride into the church on her arrival, escort the Bridal car to the
church by playing in front or play for guests arriving to the evening
reception. As all occasions are unique they are priced accordingly, so to discuss your particular requirements further please call me.''

Alasdair MacDonald
24 Victoria Road, Whitehaven, Cumbria CA28 6JA
Telephone 01946 592502